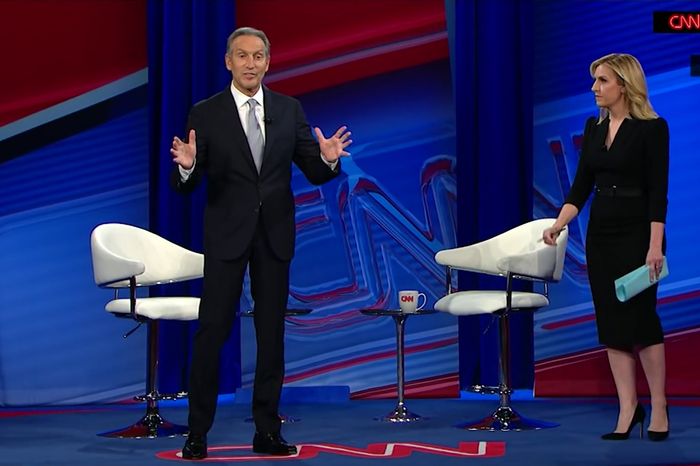 Howard Schultz during a CNN town hall, February 11, 2019. Photo: CNN
Last week, in a town hall with CNN, potential presidential candidate Howard Schultz was asked about the incident at a Starbucks in Philadelphia last year in which two Black men were arrested. As part of his answer, he said, "I didn't see color as a young boy and I honestly don't see color now."
But as Zak Cheney-Rice writes, "To not 'see color' is to not see America — who controls its government, who owns its companies, who amasses the bulk of its wealth, and whose presence is deemed a threat to its status quo."
Because you know who does see color?
Banks and other business lenders.
In fact, a report from the U.S. Department of Commerce's Minority Business Development Agency states that, "Inadequate access to financial capital continues to be a particularly important constraint limiting the growth of minority-owned businesses. The latest nationally representative data on the financing of minority firms indicates large disparities in access to financial capital."
The report adds that minority-owned firms:
Are two to three times more likely to be denied loans than non-minority firms
Receive average loan amounts that are less than half of non-minority firms
Are more likely to not apply for loans due to rejection fears
Pay higher interest rates on business loans than non-minority firms
Receive equity investments less than half of non-minority firms
This last point should be particularly relevant to Schultz, who funded both his start-up of Il Giornale, the prototype for the modern Starbucks, and then his 1987 acquisition of the six-store Starbucks chain, through equity investments.
What's odd is that as Starbucks CEO, Schultz hasn't been shy about acknowledging and attempting to address issues of race, even before the incident in Philadelphia. So why suggest he is "color blind" now?
Cheney-Rice writes that, "historically, the currency of this ideology has come from its ability to obscure racism itself — a valuable quality for anyone seeking to assure others, and themselves, that they are not racist."
While "More likely, claiming not to see color was a reflexive attempt to profess his own righteousness, rather than an honest assessment of American society, or a calculated effort to hide an insidious agenda," claiming color-blindness nonetheless aligns Schultz with some of history's most notorious racists, who also claimed color-blindness. "Schultz's intentions may diverge from [David] Duke's and [George] Wallace's, but they are united by a shared willingness to prolong the charade that racism is a matter of personal animus, of a rotten heart, from which they are personally exempt."
If you're Steven Colbert, claiming to not see color is satire. But for anybody else, it's either naïve, disingenuous, or a manipulative attempt to be seen as not racist.
More importantly, it suggests a belief that simply treating individual people equally today is enough.
But if we are ever to balance out the dramatic inequities that centuries of racist systems, structures, and policies have created, we need to acknowledge, understand, and reckon with the ways that race and power have shaped this country and its history.
Anyone who is blind to that — or who even claims to be — isn't fit to lead.
---
This post originally appeared in The Mouse and the Elephant Resource. Read the full email here, and subscribe to receive future emails with diversity, equity, and inclusion resources using the form on our home page.